Impressum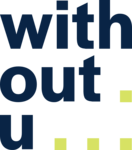 Ulf Leonhard
Villa Anna
Hans-Thoma-Strasse 13
14467 Potsdam / Berlin (google maps)
E-Mail: info@withoutu.de
Responsible for this website
Ulf Leonhard
Further information
Tax number: 14/417/62628
Legal domicile: Amtsgericht Berlin-Charlottenburg
Commercial register number: Potsdam HRA 6829 P
Disclaimer
The content of these pages has been carefully edited and checked. However, we do not guarantee that the information provided is up-to-date, correct or complete. This website is for information purposes only.
Despite careful control of the content, we do not assume any liability for the content of external links. The operators of the linked sites are solely responsible for their content.
All rights of the website are reserved to Ulf Leonhard e.K.. Copying and using the contents and illustrations of the website requires written consent. Copying, reproduction or modification of the website is prohibited.
Translated with www.DeepL.com/Translator (free version)